Eco-Schools - Silver Award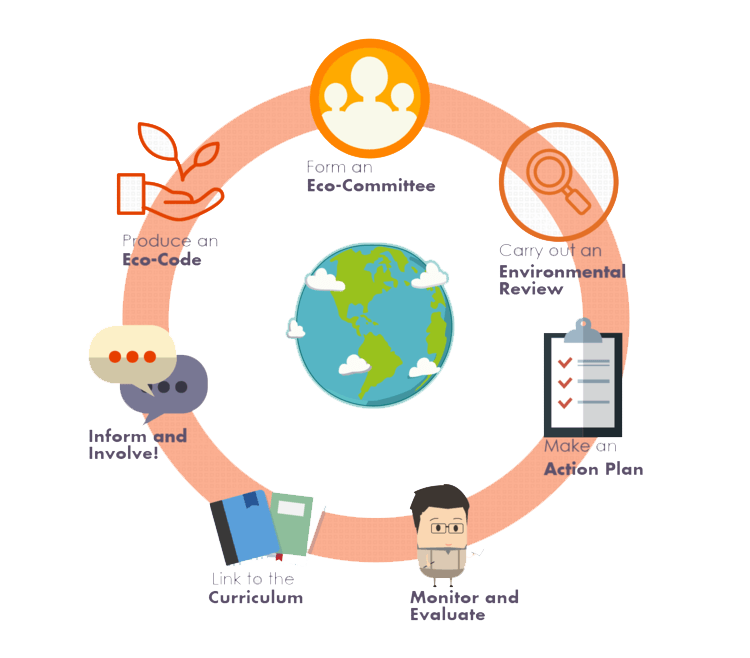 We are working towards becoming an Eco-School by following the Seven Steps to gain the Green Flag Award which involves the whole school and the wider community being involved. The programme is pupil-led and self-assessed at Bronze and Silver levels. For the Bronze Award we had to form an Eco-Committee which we have called the 'Green Goblins'. The committee members are pupils, teacher, teaching assistant and a member of the Senior Leadership Team.
Our first task was to conduct an Environmental Review of the school and form an action plan covering three Eco-Schools topics which have to be monitored and assessed.
Next, the Green Goblins looked at Eco-code samples from other schools and discussed the appearance of how it should look and what kind of environmental phrases should be included. The Green Goblins then asked their class mates to have a look at two codes and vote for the one they liked best and this was then displayed around school.
The Green Goblins meet regularly and Bobby-jay takes minutes of what has been discussed and actions to take place.
In July the Green Goblins did an assembly to the whole school to introduce John Watson, our volunteer gardener and also highlighted many of the environmental tasks they have performed this year:-
recycling (paper, card, plastics, mobiles, inks, books, clothes, DVDs, batteries)

growing fruit (strawberries, blackberries, red currants) as well as tending the orchard (pears, plums, apples)

growing vegetables (corn, tomatoes, peppers, carrots, onions, leeks, sweet\green beans, cabbage, scallions, lettuce)

growing flowers - wide variety including sun flowers located around the perimeter fence

feed wildlife (birds, bats, hedgehogs, squirrels and ladybirds) in their special houses
energy conservation (turning off lights, pcs, projectors, smart boards) and hang out the washing to dry
look after the tadpoles and frogs ensuring the pond is kept clear of rubbish
Meet the Goblins!