News
Friday 6th October 2017 - PE resources
Monday 18th September 2017 - PE/Homework information - all classes
Monday 11th September 2017 - Class Dojo
Please be aware that pupils have already come home with or will be coming home very soon with their unique code for Class Dojo. This means that you will be able to follow the instructions on the sheet to download the app, login and view your child's dojo points and class story. Each week, the classes will be uploading a photo/status/work to the class page. We hope you join us with Class Dojo soon!
Thank you for your support!
Wednesday 6th September 2017 - After School Clubs 2017-2018
Please note that all After School Clubs will start again next week (week beginning Monday 11th September 2017).
Mondays:
Change4Life (y2-y4)
Tennis (y4-y6)
Wednesday:
Film Club (y1-y6)
Basketball (y3-y6)
Thursday:
Just Dance (y2-y6)
A small charge of 20p is appreciated for attending any clubs.
If your child has not already brought a letter home, then please collect a consent form from the school office to sign your child up for any after school clubs, or click here to download a form.
Thank you
Tuesday 5th September 2017 - The Family Portal
Sunderland City Council and Together for Children have invested in a new online system to improve the application process for 2 year old early education places, free school meals, early years pupil premium and the 30 hours entitlement.
Parents\carers can now use this online portal to set up their own secure account to submit information about themselves and their family to apply for the above entitlements The account provides a secure communication channel between Together for Children and provides an instant response to parents.
To ensure school receives all of its funding from the Government, can you please apply for FREE SCHOOL MEALS as soon as you think you are eligible. If you have a child in Nursery or Reception and claim any kind of benefit please apply for the EARLY YEARS PUPIL PREMIUM as we can claim £300 per year for each eligible child. Click here for the link.
Wednesday 30th August 2017 - Back to school September 2017
Good afternoon! All the staff at Barmston Village Primary School hope that you have all had a fantastic summer holiday! With the new school year starting next week, we thought we would take this opportunity to remind you of a few things:
~School reopens on Tuesday 5th September 2017.
~Please note that from September 2017, children will not wear indoor shoes/slippers inside school. We ask that children wear smart black shoes or black trainers.
~For PE, children will need to bring their own PE kit into school (shorts, T-shirt and appropriate trainers). The children will be informed next week what day their PE lesson is on.
Thank you for your support!
Monday 10th July 2017 - After School Clubs
Please note that this week (Week beginning Monday 10th July 2017) is the last week of after school clubs this academic year. Thank you!
Tuesday 11th July 2017 - Community Litter Pick at Barmston Park @11am
We will be taking our year 5 class, school council and gardening club to the local park in the centre of Barmston on Tuesday 11th July at 11am to carry out a litter pick of the area. This will be ran in conjunction with Gentoo and MacDonalds in an effort to keep the local area tidy. Parents/carers are invited to attend the event and help out with the litter pick. Thank you for your support!
Wednesday 28th June 2017 - Derwent Hill
Below is a small selection of photographs from the year 6 children's visit to Derwent Hill last week. The children thoroughly enjoyed themselves and have not stopped talking about it!
Friday 30 June 2017 - Art Exhibition\Y5 Virgin Money Project
We are very pleased with the art work that the children have been working on ready for sale on Friday at 2.45 pm @ £3.00 each. The Y5 children have taken part in the Virgin Money - Make your £5 grow! This teaches children how businesses can make a profit. A small stall will be available for parents\carers to purchase the products the children have made eg crafts, food and sweets. Please come along and enjoy the exhibition and purchase the wonderful items the children have made!
Thursday 6th July 2017 - Year 6 Leaver's Assembly
Please note that tickets for this year's Year 6 Leaver's Assembly are available for year 6 parents/carers to buy this week. The year 6 children can bring the money into school and tickets are available from their year 6 teachers. Tickets cost £1 each, with a limit of 3 tickets per year 6 child - If there are any spare when all families have bought tickets, then they will be available to purchase nearer the time.
After the assembly, parents/carers will be invited to look at children's books and share all the hard work they have put in this year. Thank you!
Friday 23rd June 2017 - Year 6 - Derwent Hill Final Day
It is the final morning for those children who have been at Derwent Hill this week. After one final activity this morning, the children will set off on their journey back to school. We will keep you updated on the estimated time of arrival back to school (depending on traffic) through the school's Facebook page - parents can also ring the school office from 2.30pm to be updated on what time we estimate them to arrive back. I am sure everyone will agree that the children will have plenty to tell you about when they arrive back. We will ensure that a selection of pictures are made available on the main school website next week.
Wednesday 21st June 2107 - Year 6 Beamish Wild
The year 6 children, who haven't attended Derwent Hill this year, had an incredible time at Beamish Wild this week. They did 4 amazing activities which took a lot of courage, precision, team-work and bravery. Well done to all those involved - pupil and staff!
Monday 19th June 2017 - Year 6 - Derwent Hill Day 1
The year 6 children, who are attending Derwent Hill, arrived safely in Keswick at around 12.30pm this afternoon. They have settled well and have already been busy around the local area. Take a look at a few photographs, that have been sent back to school:
Wednesday 7th June 2017 - Our Local Area
Our school council has been working with Gentoo recently; the aim is to develop the local green area with the key focus being on the park which some of our children use on a regular basis. Gentoo have agreed to support us with the project. This will include:
Litter picking

Getting new bins

Posters being displayed on the bins

Footprints to show a path to the bins

Eyes on trees.
A date will follow for the litter pick. All support will be gratefully received. We have been informed by Gentoo that if you see supermarket trolleys found abandoned around Barmston, then please do the following:
Report trolleys to 'Trolley Wise' - this can be done via their app - simply take a photo and send it to them with the details of where it is and they will collect it.

Photographs should also be forwarded to Gentoo/Council.

Please note that B&M trolleys should be reported directly to B&M.
Thank you for your support with this matter.
Tuesday 6th June 2017 - Parent/Carer Survey
The end of the school year is now in our sights and it is that time of year again when would like to ask all parents and carers to kindly complete our annual Parent/Carer Survey. As a school, we really value your opinions - please complete the survey by clicking on the link, which is on the school website's homepage (www.barmston.com). For those of you who wish to complete the survey using a computer in school, dates will follow as to when the computer suite will be open to parents. Thank you for your support!
Friday 26th May 2017 - Half term
School closes today (Friday 26th May 2017), and reopens on Monday 5th June 2017. Please ensure all children stay vigilant during the school holidays in order to keep themselves safe. We have spoken to children in school about keeping themselves safe by not talking to strangers, staying safe online, always ensuring parents know where the children are and being careful when crossing roads. We hope everyone has a lovely half term and keeps themselves safe. Thank you for your support!
Thursday 11th May 2017 - Year 6 SATs Celebrations
All the staff at BVPS would like to congratulate the Year 6 pupils on finishing their SATs assessments this week. To celebrate, year 6 are invited to have a 'comfy day' tomorrow, where they are allowed to wear comfortable clothes/pyjamas to school. We will be having a relaxed day, watching a film and having fun! All other year groups are to attend school in school uniform as normal. Thank you!
Friday 5th May 2017 - Year 6 SATs
The Year 6/end of KS2 SATs tests will be carried out next week: Monday 8th May until Thursday 11th May 2017 (inclusive). Please ensure that all year 6 children have a lovely weekend, revise a little and rest ahead of their tests next week - ensure that the children are given lots of encouragement!
There will be a year 6 breakfast club in the KS2 hall running from Monday until Thursday next week, in order to get the children in, fuelled with breakfast and reassured if needed. We encourage all pupils to attend the breakfast club, however it is not essential that they do. The breakfast club will run from 8.15am, however if the children normally arrive at the normal school breakfast club at 8am, they can can then come down to the year 6 breakfast club at 8.15am.
Below is timetable of the SATs tests:
Monday - English: Reading
Tuesday - English: Spelling, punctuation and grammar (paper 1 and 2)
Wednesday - Maths: Arithmetic (paper 1) and Reasoning (paper 2)
Thursday - Maths: Reasoning (paper 3)
Thank you for your support!
Friday 7th April 2017 - End of term
Well done to everyone who entered our Easter Egg competition this year.
Our Easter Egg competition was judged this year by representatives from the Daft As a A Brush Charity - take a look at some of the photos of the eggs which were made.
We also got to see the new Daft As A Brush ambulance - Barmston Village Primary School volunteered to decorate the back of their brand new ambulance and they revealed some of the children's designs on the ambulance at the Easter Fair.
Lastly, the winners of this terms citizenship and work awards are as follows:
| | | |
| --- | --- | --- |
| Class | Citizenship Award | Work Award |
| Nursery Mornings | Caleb H | Karma R |
| Nursery Afternoons | Lexi M | Imogen S |
| Reception | Kenzie F | Grace T |
| Year 1 | Kyla M | Myles W |
| Year 2 | Codie C | Thomas G |
| Year 3 | Jasmine K | Annaliese W |
| Year 4 | Layton W | Joe D |
| Year 5 | Hayden D | Terry W |
| Year 6 | Demi-Leigh C | Abbie-Estelle R |
Thursday 6th April 2017 - Easter Fair

Our Easter Fair will take place this Thursday in the Foundation Stage Hall (top hall). Cakes and crafts will be on sale for parents at 2.30pm. The Easter Fair will remain open after school in order to allow parents to collect their children then attend the fair with their child at 3.15pm. Thank you for your support!
Monday 3rd April 2017 - Easter Assembly
On Monday, the whole school took part in an Easter assembly and service. We learnt about the Easter story, which was retold by some excellent speakers in schools. Mrs Bainbridge also gave out certificates and prizes for excellent work and citizenship this term.
Spring 2017 - Class Dojo
This term, we have introduced Class Dojo within school. Class Dojo is an online reward system which allows children to collect Dojo Points in order to receive a prize. Children can collect Dojo Points for anything from being polite, being helpful or being hard-working. Children collect their points and then can cash them in at the Dojo shop when they reach an appropriate amount.:
50 points - an item from the prize box.
250 points - a larger item e.g. football/art-set.
500 points - £10 voucher.
Look out in the future, each child will be given a code which is unique to them, and allows their parents to follow their progress with collecting Dojo Points.
Outdoor Learning
This year, the year 5 class has enjoyed participating in outdoor learning. Each week they have been building shelters, cooking, working as a team as well as lots of other fun activities. Have a look a some of the pictures taken during the outdoor learning sessions.
Wednesday 8th March 2017 - Parent Governor Vacancy
We currently have a parent governor vacancy – please get in touch with office staff to apply. Deadline is Friday 17th March 2017.
World Book Day 2017
On Thursday 2nd March 2017, the children came to school dressed as a character from some of their favourite books in celebration of world book day. Year 6 even visited The Grange care home to spread some of the fun were having in school!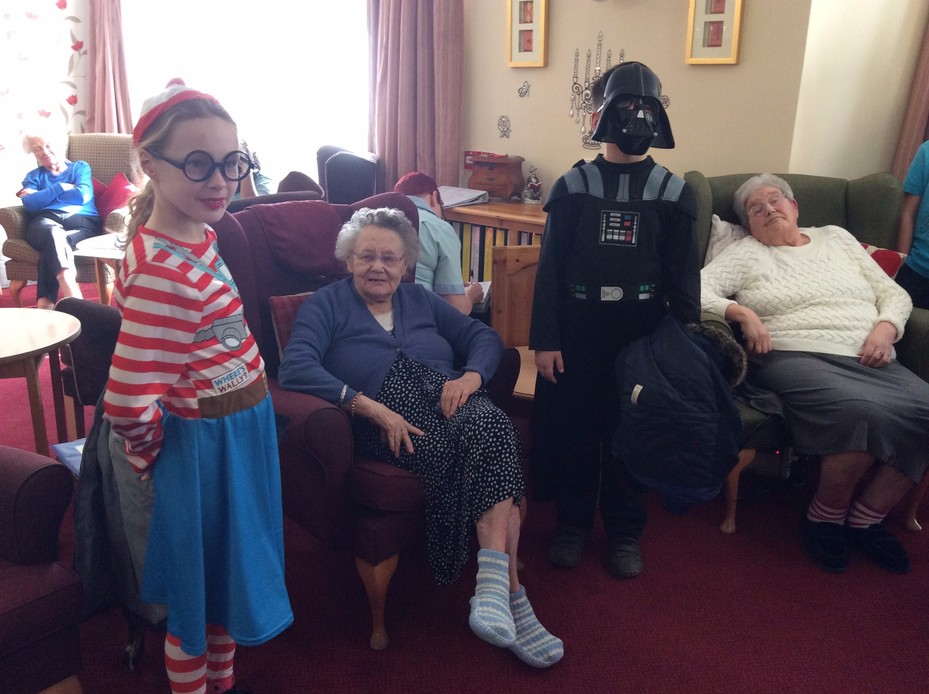 Thursday 2nd March 2017 - World Book Day 2017
On Thursday 2nd March, in school we are celebrating world book day. Children are encouraged to come into school dressed as a character from a book which they have read. We would also appreciate it if you could take a photograph of your child reading a book in an unusual place over the half term holiday - that may be in the park, at a bus stop or on a swing etc! Please email your photos into school using office@barmston.com
Thank you for your support!
Friday 3rd February 2017 - Safer Internet Day 2017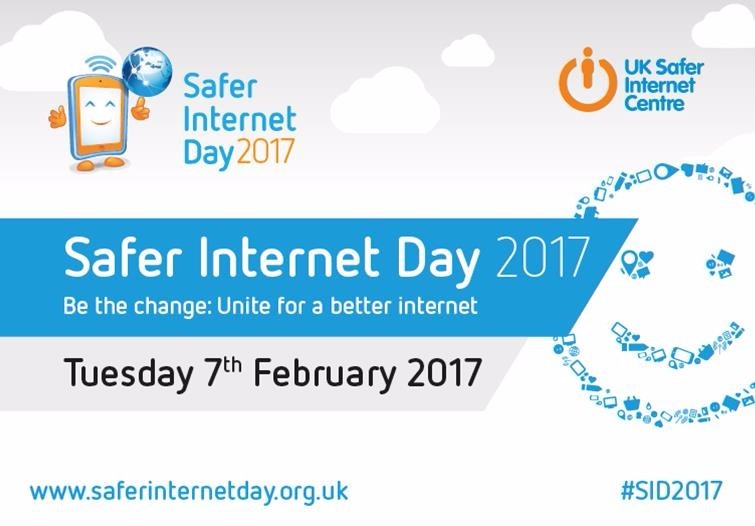 Help us celebrate Safer Internet Day 2017! Next Tuesday (7th February), it's Safer Internet Day 2017 - the children will be taking part in various activities in school to educate them about how to stay safe online. Our children are growing up in a world driven by mobile technology, therefore we are asking you to support us to educate the children about how to stay safe when using the internet. If you would like any more information, please visit the 'Online Safety' page in the parent section of the school website, or call into the school office to pick up a handy leaflet about how to keep our children safe online. Thank you for your support!
Thursday 2nd February 2017 - Registering Nursery Children
Any child from the age of 2 years can now be registered for our Nursery:
Date of Birth Range 01.09.13 – 31.08.14 (Admission September 2017)

Date of Birth Range 01.09.14 – 31.08.15 (Admission September 2018)
If you have not yet registered then please call into main reception for application forms with proof of child identity i.e. Birth certificate or valid passport.
Wednesday 1st February 2017 - Coffee Morning
Please feel free to join us for our coffee morning on Wednesday 1st February at 9am in the community wing - express your views on our school and area!
Wednesday 14th December 2016 - Change to termly reports
Your child's report for the Autumn term will be sent out on Friday 16th December 2016. Please note that there has been a change in format for the report. The reports being sent out in Autumn and Spring term this academic year are going to be slightly shorter than the normal report sent out in the Summer term. The Summer term report is not changing and will be the same longer report that you normally receive.
Thank you for your support. If you have any issues please pop in to see us!
Wednesday 7th December 2016 - Christmas Craft Fair
Tomorrow (Thursday 8th December) some children will be participating in a craft fair at South Shields Market Place (top of King Street) 10am - 2pm. Please feel free to come and support us!
Our school Christmas Craft Fair will take place on Thursday 15th December in the KS2 hall - doors open 2.45pm - 4pm.
Thank you for your support.
Tuesday 22nd November 2016 - Christmas Information
Friday 18th November 2016 - Children In Need
The children will be taking part in a Great British Themed Bake-Off in class - the children will have the opportunity to bake and decorate cakes and biscuits. These will be on sale for children at 2.30pm on Friday (children can bring their money into school), then the year 6 children will be selling goodies for 10p each to parents in the key stage 2 hall at 3pm! Friday is also non-uniform day (50p donation appreciated! All in aid of Children In Need).
Thank you for your support!
Thursday 17th November 2016 - Anti-bullying Week
We are celebrating Anti-Bullying Week this week, therefore children can come to school dressed in blue to support this on Thursday! Normal school uniform is suitable for children who do not have alternative blue clothing.
Thank you for your support!
Thursday 20th October 2016 - Football Result
Barmston Village Primary School 2 - 2 Biddick Primary School
Barmston Village Primary School 5 - 0 Marlborough Primary School
Thursday 13th October 2016 - Football Result
Our Lady Queen of Peace 1 - 0 Barmston Village Primary School
St Josephs 3 - 0 Barmston Village Primary School
Tuesday 11th October
Thank you for your support!
Monday 10th October 2016 - Sunderland Illuminations
The art installation that was decorated by pupils at Barmston Village Primary School is now on display at Sunderland Illuminations. Be sure to pop down to Sunderland seafront and have a look at the work completed by pupils at Sunderland Schools. Our work is the bauble with the treasure map design!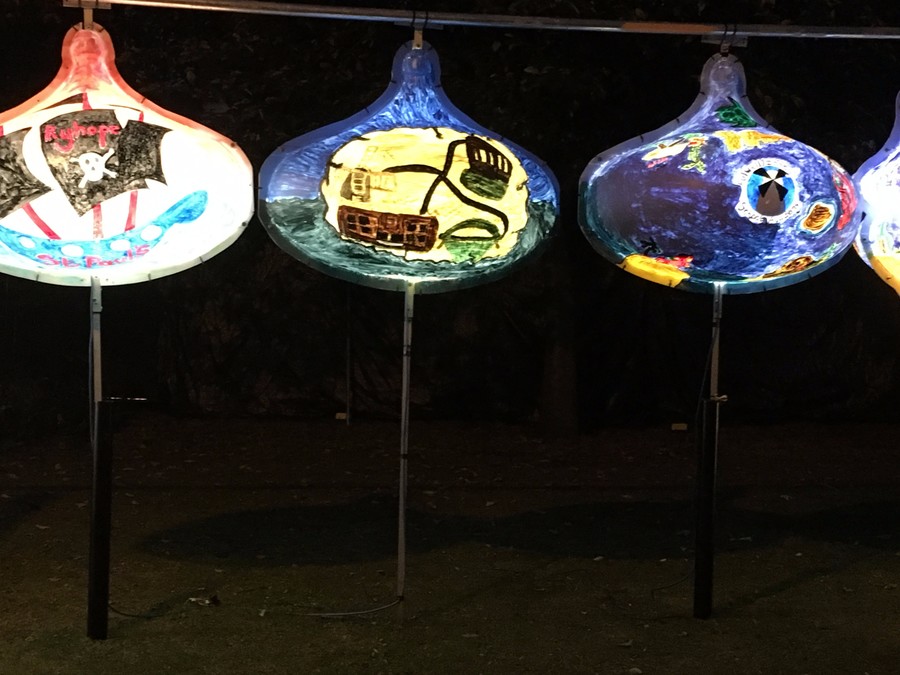 October 2016 - After School Clubs
Please see the details of the after school clubs which are running in school this term. Children wishing to attend these clubs need to see Mrs Foster for a letter to take home to parents/carers.
| | | |
| --- | --- | --- |
| Day | Club | Year Groups |
| Monday | Athletics | Y2 and Y3 |
| Tuesday | Football Skills | Y3, Y4, Y5 and Y6 |
| Wednesday | Football Team | Y5 and Y6 |
| Wednesday | Craft | Y3, Y4, Y5 and Y6 |
| Wednesday | Film Club | Y1, Y2, Y3, Y4, Y5 and Y6 |
| Thursday | Basketball | Y4, Y5 and Y6 |
| Wednesday (after October half term) | Netball | Y4, Y5 and Y6 |
Thursday 6th October 2016 - School Photographs
Tempest Photographers will be in school on Thursday 6th October to take our annual school photos. Please ensure that all pupils are in their correct uniform.
Friday 30th September 2016 - Parent &Toddler group
Mrs Annette Guy is organising a Parent & Toddler group to start after the October half term holiday. Bring your young children into the community wing and enjoy mixing with new friends in a warm and friendly environment.
The summer 'activity days' during the first four weeks (Tuesdays and Thursdays 10.00 - 14.00) were well attended. Children participated in a wide range of activities and had a great time!
Thursday 29th September 2016 - Year 6 Trip
Year 6 spent Thursday at the Suez Energy from Waste plant in Teesside. We learned about how Suez creates electricity by burning rubbish that would traditionally be sent to a landfill. Be sure to take a look at some of the photos!
Thursday 29th September 2016 - Football Result
St Bede Primary School 1 - 0 Barmston Village Primary School
Player of the Match: Damian Gaston
Thursday 22nd September 2016 - Football Result
Rickleton Primary School 2 - 1 Barmston Village Primary School
Usworth Colliery Primary School 2 - 2 Barmston Village Primary School
Player of the Match: Jonnie Dempsey
28th September 2016
If you would like to take part in a survey regarding this week's M&S and Oxfam "Shwopping" campaign please click here
September 2016 - Music Lessons
On Fridays children in Year 2 are taught to play the Recorder, Ukulele in Y3 and Violin in Y4.
As children in Years 5 and 6 have progressed very well learning to play the Violin they are continuing this academic year.

Lessons are taught in a ten week block during the autumn, spring and summer terms.
We also offer guitar lessons on Wednesdays at a heavily subsidised cost of £20 for pupil premium children or £30.
September 2016
School Meal Menu 2016\17 Academic Year
July 2016 - Year 1 and 2 enjoyed a trip to the farm!